The Chabad Reference Library is for Jewish studies, and has been designed to provide authentic Jewish material. The Library aims to provide core materials for Jews and Non-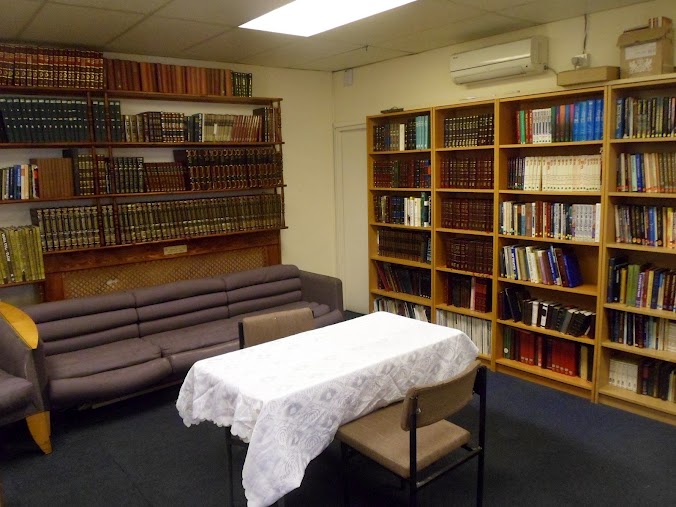 Jews alike. The books have been chosen to provide the reader with a look into practically every topic one might be interested in researching. Whether you're new to Judaism or just looking to expand your knowledge, this library is for you.
This Library is dedicated in loving memory of Florence and Sidney Eker by their son Richard Eker.
Both the Hebrew and English sections were completed in 2005 and have since grown and expanded to contain hundreds of books and magazines to provide you with a wide breadth of learning. Modern and spacious in addition to being nicely set in a secluded room makes the library a one-of-a-kind in Hendon.
The Library is usually open throughout the day (Monday – Friday 11am-5pm).
English Book Library
In the Library's English Section  explore hundreds of books and magazines on an array of topics.
Organised carefully by colour coding you can easily find what you prefer – in history, philosophy or just general Judaism- and curl up on one of the comfortable couches. The books have been systematically organised into the following sections:
General Judaism
Halachah – Jewish Law
Torah Commentary
Kabala and Mysticism
Story Books
Biographies
Jewish Festivals
Jewish History
Moshiach
Marriage
Women's Interest
Chassidic Discourses
Hebrew Sefarim Library
Throw yourself into the sea of the Talmud, Feel the wisdom of Maimonides philosophy and discover the ins and outs of practical Jewish Law in this section.
More for the seasoned student who has a grasp on how to learn the visitor can choose from famous Jewish Torah literature.
The Shulchan Aruch, The Talmud, The Mefarshim, The Mishnah, various books on Chassidut and Kabbala are among our collection and provide the visitor ample material to learn in a Yeshiva-style environment.
Can't read Hebrew and would like to? Sign up to Chabad House's One-on-One learning evenings.
DVD Library
More of a visual thinker? Here's your chance!
Choose your pick and enjoy an inspiring and entertaining video from this section. Our TV screen is based in great private location where you can relax with your friends and view something of your preference.
CD and Tape Library
Fast Jewish Music. Hundreds of classes from lecturers from around the world. Check all this out at Chabad House of Hendon.