IPO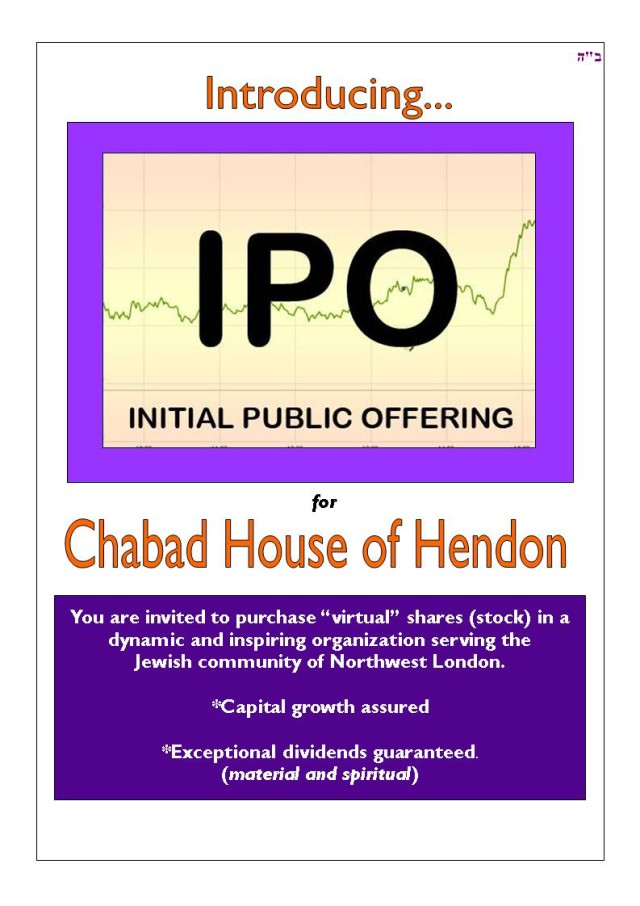 CHABAD HOUSE PROGRAMMES and  SERVICES
Adult Education: Weekly Classes, Lunch & Learn, One-on-One Study, Communal Lectures.  Multi-Media library. Holiday Programs: Sukkah Party & Celebration , Sukkah & Lulav Outreach, Chanukah Party & Celebration, Menorah Distribution, Purim Party & Celebration, Purim  Outreach, Pesach Community Seder, Shmurah Matzah Distribution, Lag Ba'omer Pinic,         Shavuot Party & Celebration,  Chassidic Gatherings ("farbrengens")
Children's Programmess: Bar/Bat Mitzvah Instruction , After School Tutoring
Jewish Women's programmes, Monthly Events & Workshops, ladies study group
Young Adults:   Educational Events, Social Events
Shabbat Activities: Shabbat home hospitality, Weekly Kiddush Lunch
Religious & Communal Services: Shabbat Services, High Holiday Services, Brit Mila & Naming Celebrations, Bar Mitzvah Celebrations, Weddings, Funerals, Koshering Kitchens, Mezuzah Bank, Mezuzah and Tefillin Checking
Chaplaincy, Pastoral Care & Counselling: Marriage Preparation, Hospital Visitation, Senior Citizen Visitation
Other: Discretionary Loan Fund, Jewish  Multi-Media Library, Tourist Services.
IPO Chabad of Hendon TERMS AND CONDITIONS
After over 12 years of successfully providing numerous programmes and opportunities for Jewish education and spiritual growth in the heart of northwest London, Chabad House of Hendon is seeking to underpin its future growth and security by raising £30,000
With this objective in mind, Chabad House invites you to becoming a "shareholder" in this "enterprise." We are  issuing one hundred and sixty six (166) shares to the Jewish public with a share value of £180 per share.
Minimum share purchase is one share (payment terms see below). Maximum allocation will depend on the extent to which this IPO is subscribed. Presently there is no maximum amount of shares one can request.
One may purchase shares on behalf of—and if one chooses "in memory of" current/departed family members.
Each shareholder will receive their own (non-transferable) Certificate of Holding.
Shares fully redeemable (- in the World to Come!)
Share Application Form
YES! I would like to purchase……..Share (s) at £180 per share. Total amount to pay £………
Name……………………….Address…………………………………………………………………
Tel…………………………………..Email…………………………………………………………..
…..Enclosed cheque/voucher/cash  … I will BACS payment to your acc. Chabad House of  Hendon acc. Number 01377930 sort code 400701
…..I will Paypal your account (to rabbigo@gmail.com)……I will pay on line at chabadlive.com
Please deduct my Credit/Debit card number…………………………………exp…………cvs……..
Name and address on card ( if different from above)…………………………………………………….. Visa/Master……………
……Please send me Standing Order form for £…….per month